Have you joined the felt food craze?
A few weeks ago while I was reading one of my favorite craft blogs,
Make and Takes
, I was drawn to these adorable
felt sugar cookies
.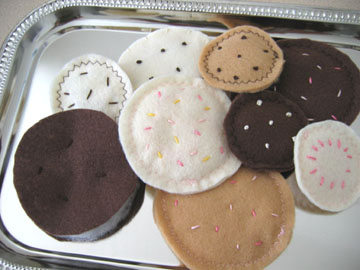 I went right out the next day and bought as much felt as I could so I could make my very own. Unfortunately, all of that felt is still sitting in my craft box. (I'll get to that eventually, too.)
Marie, the talented and crafty mom behind
Make and Takes
, did us all a favor — she also posted a
splendid tutorial
complete with pictures so we can make our very own!
One of Marie's readers was inspired by the same post and posted a picture of her
own felt gingerbread cookies
. They are just as darling.
As I was at
Michaels
buying felt, my daughter helped me compile a list of other felt food we could make. Then I headed on over to
Etsy
once again to see
what other inspiration
I could find.
I was stunned by the infinite pictures of
felt food
I found. And every time I go back, there are even more examples and more things to buy.
Here's a few of my favorites:
Pepperoni Pizza from Vivikas
Poptarts from Sweet Confections
Stone Soup Veggies from ForEvelyn
Complete Breakfast from PinaKoala
Cafe Deli Sandwich and Chips from DoodleBugFinery
Fruit Slices from Umecrafts
(instructions and patterns available, too!)
Pasta with Shrimp from GoBuggy
Feel inspired yet? I surely do. But if you need more inspiration here are some links worth checking out:
Ask Design Mom: Felt Crafts
answered by Cindy from
Skip To My Lou
Lilly Bean Market
The Handmade Felt Food Pool on Flikr
Retroragswi's Felt Food
Play Food from Mahar Drygoods
Have You Felt Food? from The Land of Nod
And, this book will be available in June 2008:
My Favorite Felt Sweets

by Joie Staff
Labels: guest mom, kids, make something